John 2
The eating of the Castle cellar offers a selection of natural wines, and seasonal both simple and inventive cuisine. In this friendly place, and an exceptional setting.
Named John 2 in honor of Jean II of rooms – close advisor to Charles VII – who built the castle in the 15th century, John 2 is located in the old kitchens of the Palace classified historical monument.
On the border of two major wine regions, between Saumur, Chinon and Bourgueil, the John 2 is committed to organic viticulture. Our winemakers partners are exclusively producing wine from organic or natural.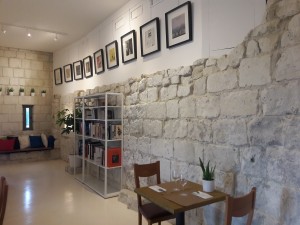 The cellar dining declines two atmospheres: an arch, cosy, intimate and relaxed with a library corner to devour a comic or an art book, a novel or a book of poetry, in all serenity and a terrace for summer days, with its roof top which data e on the confluence of the Vienne and Loire.
Kitchen,
John 2 offers a variety of slate consisting of local products: porks and organic or artisan, cheeses with a glass of natural wine. It is open throughout the day for refreshments, gourmet and lunch breaks.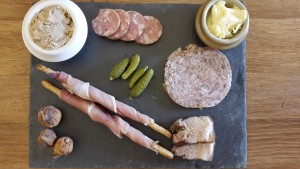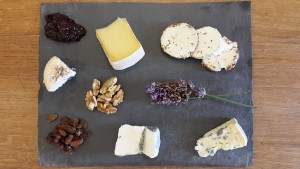 Side decoration, music inspires the place.
On the walls, vinyl collector album recall the collective Art & Language – avant-garde works are presented in the Castle – collaborated on several albums of the psychedelic rock band Red Crayola.
A piano is also made available to visitors who wish to exercise their talent.